We find these old shoe lasts/forms at almost every flea market that we go to. I love them so much because they are just different and I love the wood and metal together. Industrial mixed with vintage is the perfect combination to me.
I love the look of them but I wasn't sure what we would do with the shoe lasts/forms until we started remodeling our closet. As we were tearing down the old paneling, we found a window behind it! So we used that to our advantage and made a frame (more on that in another post). As soon as I saw the frame, I knew what I wanted to do with those old shoe lasts. Turn them into hangers for our belts and scarves!!
I am so excited to share our vintage shoe last hangers for the thrift store challenge this month!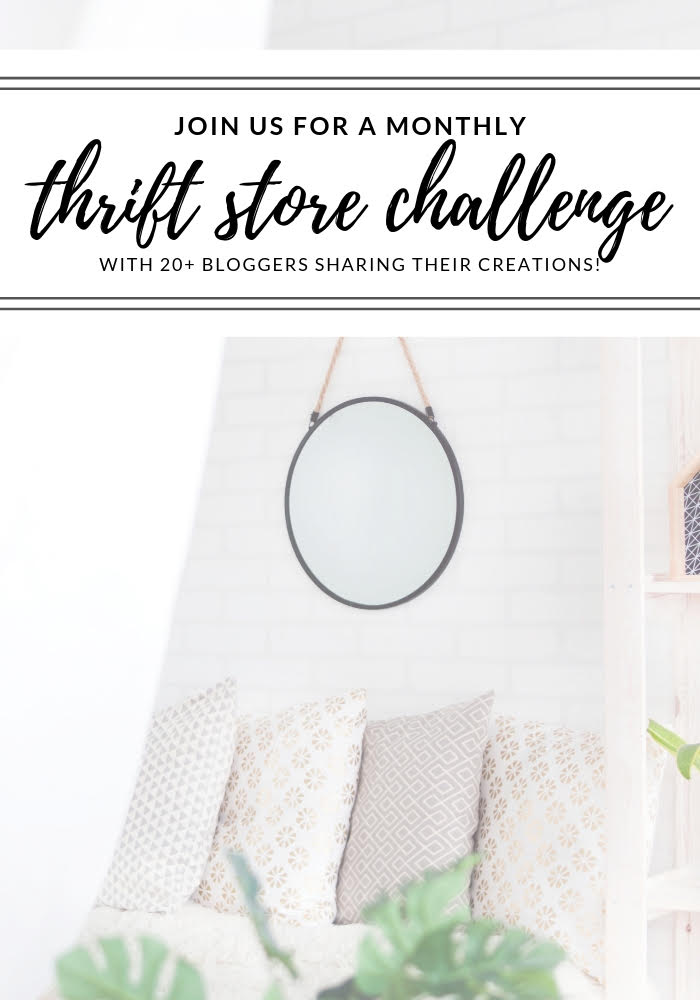 The Rules:
Upcycle an item(s) from a thrift store, resale store, or garage sale into a new piece of decor.
There's no monthly theme.
There's no budget to stick to.
Meet the Hosts
Angela | Simply Beautiful By Angela – Deborah | Salvage Sister & Mister – Angie | Grandma Creates – Denise | My Thrifty House – Jenny | Cookies Coffee and Crafts – Lynne | My Family Thyme – Meredith | Southbound Blog – Marie | The Inspiration Vault – Gail | Purple Hues and Me – Molly | Just a Little Creativity – Pili | My Sweet Things – Amanda | Domestically Creative – Ali | Home Crafts By Ali – Carmen | Living Letter Home – Emy | Semigloss Design – Jeanie | Create and Babble – Marie | DIY Adulation – Heather | Glitter On A Dime
Make sure you follow our board on Pinterest for more upcycled decor inspiration!
How to Repurpose Vintage Shoe Lasts/Forms
A shoe form is called a last. They are called that because the lasting department is the first area where the shoe gets formed in the assembly line.
Lasts typically come in pairs and are made of several different types of materials, including hardwoods, cast iron and some heavy duty plastics.
The kind of last that I look for is the wooden ones because I love how rustic and industrial they look. You can really see each marking on the wood where they nicked them with the machine to make a shoe.
I didn't change them very much because I love that patina and the original words and letters that were already stamped into them.
What we used to hang the shoe lasts/forms
The following list contains affiliate links. We are a participant in the Amazon Services LLC Associates Program, an affiliate program designed to provide a means for us to earn fees by linking to Amazon.com.
As an Amazon Associate, I earn from qualifying purchases.You can find our full disclosure here.

Because we built a frame for the boarded up window that we found, we just attached the old shoe lasts to the frame by measuring the lasts and pre-drilling the holes in the wood and the lasts.
The shoe lasts that we were using had a metal piece with two holes on the back. We had to make sure and measure the distance between the holes so they would be lined up with the pre-drilled holes on the frame. Don't forget to take the curve into account when measuring the distance!
I'm not sure how much sense that made but the frame we built is removable so we removed it from the wall and attached the lasts with screws from the back. When we add more shoe lasts to the regular walls, we will attach them to wood planks first and then hang them.
We also have the idea to remove the metal pieces from the back and cut a keyhole in order to hang on the wall without using a wood plank. I'll let you know what we decide when we get that part done.
After the shoe lasts were hung, I didn't want to paint them because I really like the look as-is so I spread a thin layer of polyurethane onto them. They looked so shiny and the nicks stood out even more so it was definitely the right decision.
If you don't care for the look of the original form or it doesn't match with your decor, you can always paint them whatever color you want. They will look beautiful either way!
After the polyurethane was dry, we used hooks to attach to the bottom of the shoe lasts where the holes were so we could use them as hangers.
There's really not much to it and they are so unique and different. I think that I will add more to our closet so we can hang coats and different things that are bulky.
Have you ever found shoe lasts/forms at a flea market? I would love to know how you repurposed them!! Let me know in the comments below.
And now for more thrifty goodness!
Check out what my fellow upcyclers created below!