Planting flowers with the grandkids has so many benefits and it's a great learning process as well. They will learn how to care for the flowers with the proper soil and water. Planting and caring for flowers will also create special memories with them that will last a lifetime.
For this month's thrift store challenge, I'm going too use some terra cotta pots that we found at flea markets and some that my grandparents had lying around when we bought their house.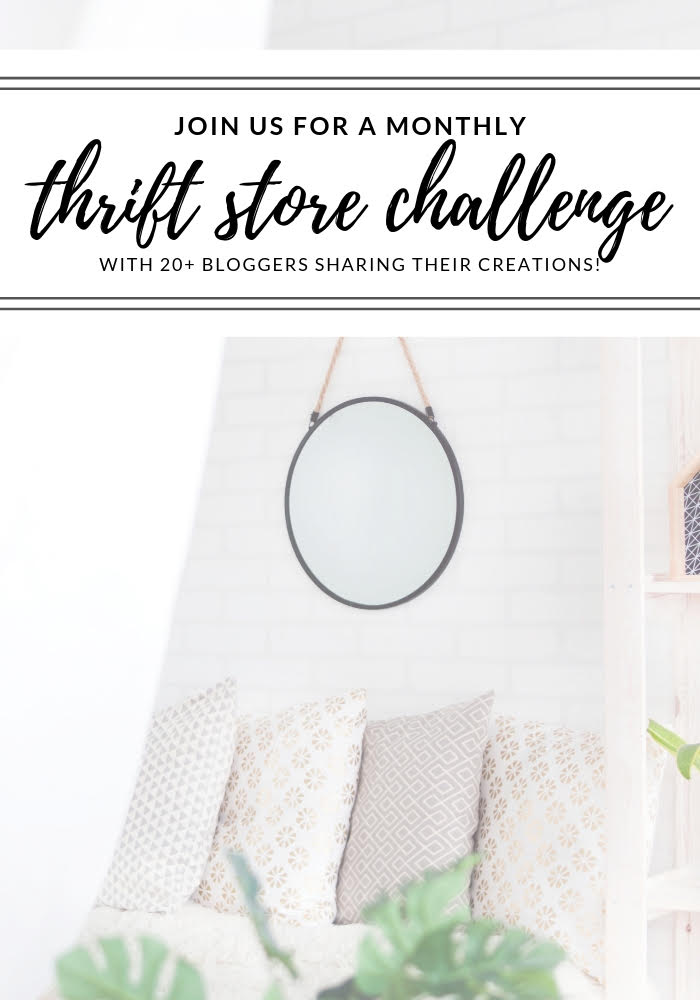 The Rules:
Upcycle an item(s) from a thrift store, resale store, or garage sale into a new piece of decor.
There's no monthly theme.
There's no budget to stick to.
Meet the Hosts
Angela | Simply Beautiful By Angela – Gail | Purple Hues and Me – Pili | My Sweet Things – Beverly |Across the Blvd – Molly | Just a Little Creativity – Michelle | Michelle Jame Designs – Angie | Grandma Creates – Jenny | Cookies Coffee and Crafts – Amanda | Domestically Creative – Marie | DIY Adulation
Teach Grandkids the Joy of Planting Flowers
I knew that I wanted to do something with the pots that we found at a flea markets and the ones that my grandma left but I am really bad at growing flowers. Because our grandkids loved the flowers so much, I'm determined to keep them alive!
I recruited my two young grandkids to help me decorate the pots and to chose the flowers that will grow beautifully in our home. We needed something easy but pretty at the same time.
Materials Needed to Plant Flowers with Kids
The following list contains affiliate links. We are a participant in the Amazon Services LLC Associates Program, an affiliate program designed to provide a means for us to earn fees by linking to Amazon.com. As an Amazon Associate, I earn from qualifying purchases. You can find our full disclosure here.
The best thing about these pots is that you can make them as easy and as fun as you'd like. There really was no rhyme nor reason on my plans, I just knew that I wanted the kids to have fun with them. And they definitely had fun!!
What Kind of Paint to Use on Terra Cotta Pots?
Water-based paints are great to use on the pots and they are really easy to work with. Latex is also a good choice for clay pots. Make sure that the pots are clean and dry before starting to paint.
I painted the first coat white so we would have a clean slate to work with. Spray paint was used because it's so much easier and faster to dry. We allowed the first coat to dry completely before applying the second coat.
Acrylic paint was used for the second coat of paint. We bought the brightest colors possible because kids love bright colors. Our grandkids are still really small so we laid craft paper down and let them use their imagination with the paint. The three year old used the small paint brush, his finger, paper towels, and whatever he had available. The one year old just tried to eat the paint. 😅
Are Terra Cotta Pots Good for Plants?
Terra Cotta pots are excellent for plants because they provide a porous environment that allow air and moisture to penetrate the sides of the pot. Also the clay color is pretty with most plants and have a beautiful patina that gets better with age.
Terra cotta pots are also great for cacti, succulents and plants that tend to thrive in drier surfaces.
Also, the pots are actually in every flea market that is local to us so they are accessible and pretty inexpensive as well. I love that they come in the regular pots and some other pretty variations if you want to mix it up. We had found a beautiful round one that I didn't have the heart to paint. It's my favorite!
What Skills does Gardening Develop in Young Children?
Planting flowers or gardening help children develop fine motor skills because they are adding soil, planting the flowers and using a watering can. These are all great sensory skills for physical development.
There are also visual skills with naming of all of the beautiful colors of the flowers or vegetables that are being planted.
Of course, if your children are older, they could also learn geography by picking out the best kinds of flowers to grow in the environment where you live.
I remember when I was a child, my grandpa would always write the temperature, chance of precipitation and heat index on a huge calendar on the wall. He did this because that would help him determine when to plant his garden and what he should plant during the different seasons. This is an excellent learning tool for a young child.
What Kind of Flower to Plant in our Terra Cotta Pots?
Now that the pots are pretty, we needed to decide what kind of flower to plant. The store didn't have much of a selection during the late summer months so we chose two pretty mums, one that is yellow and one that is white. I think we'll plant some strawberries in the pots in the springtime, but for now, these will have to do.
The kids enjoyed helping Amma put soil in the pot and watering the flowers. I loved to watch them carefully putting the flowers into the soil.
The connection you feel when you do something together with your grandkids like planting flowers is the best feeling in the world. I can't wait to see what project we think of next.
And now for more thrifty goodness!
Check out what my fellow upcyclers created below!