As you know, I absolutely love thrift store makeovers! When I was invited to participate with a group of very talented bloggers in a monthly thrift store challenge, I jumped at the chance!!
Make sure you check back each month to see all of the new and fun creations using thrift store finds!
You might remember the spindle candlesticks that I made a while back. I purchased the spindles at a thrift store and I had so many left over that I decided to make a candy dish for my grand babies out of one of them.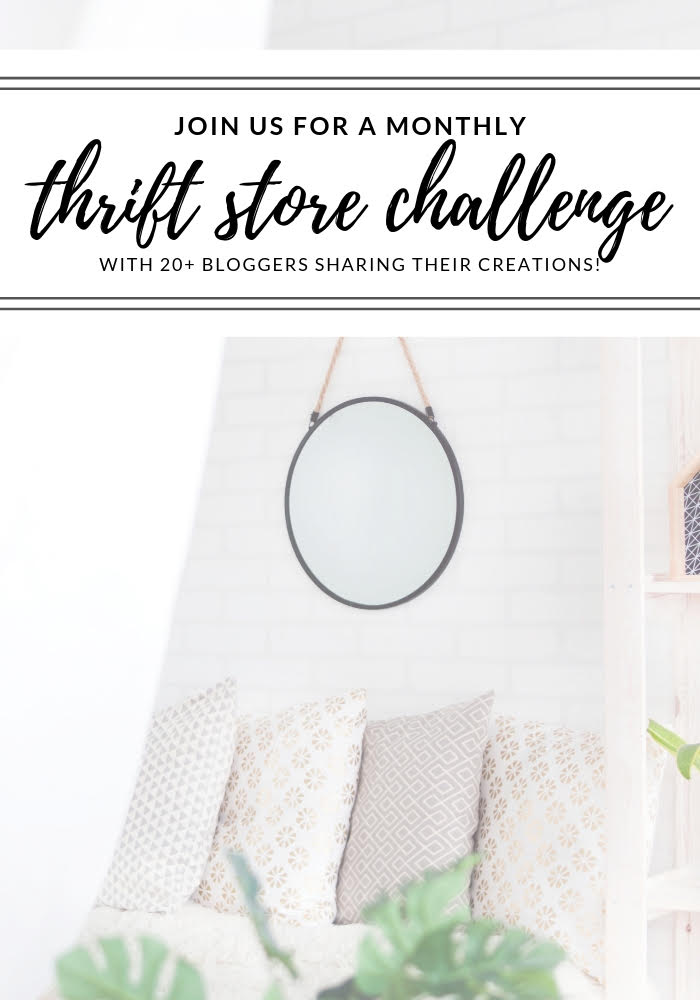 The Rules:
Upcycle an item(s) from a thrift store, resale store, or garage sale into a new piece of decor.
There's no monthly theme.
There's no budget to stick to.
Meet the Hosts
Angela | Simply Beautiful By Angela – Jenny | Cookies Coffee and Crafts – Heather | Glitter On A Dime – Amanda | Domestically Creative – Denise | My Thrifty House – Molly | Just a Little Creativity – Angie | Flippin Fanchers – Victoria | Dazzle While Frazzled – Debra | Shoppe No 5 – Marie | The Inspiration Vault – Deborah | Salvage Sister & Mister – Pili | My Sweet Things – Carmen | Living Letter Home – Habiba | Craftify My Love – Emy | Semigloss Design – Meredith | Southbound Blog
Make sure you follow our board on Pinterest for more upcycled decor inspiration!
Pickle Jar Candy Dish
The following list contains affiliate links.
We are a participant in the Amazon Services LLC Associates Program, an affiliate program designed to provide a means for us to earn fees by linking to Amazon.com.
As an Amazon Associate, I earn from qualifying purchases.
You can find our full disclosure here.
Before we get into the craft, I just want to share that our 13 year old loves those big glass jars of pickles! Every time he goes through a jar, I wash it and save it for a craft such as this one. 😁 I'm not a big fan so it's mostly him that eats them. Do you like those jars of big pickles?
I wanted a little something different for our candy dish so I decided to jazz it up a little bit with paint and one of those big glass pickle jars.
The first thing that I did was to wash and dry the pickle jar really well. I let it dry overnight so I knew that it would be ready for paint.
The label on the glass jar came off fairly easy with soap and water.
After, I cleaned the jar and let it sit overnight, I spray painted the lid using white rust-oleum spray paint and let that dry as well.
Pinterest has several different ways of painting a glass pickle jar but I loved the way that some people turned the jar over and let the paint drip down the sides. I thought that this technique would be perfect for this project.
I had some leftover paint on hand but it was chalk paint and all of the tutorials say to use acrylic paint. This project was just going to have to make do with what I have on hand so I watered down the chalk paint just a teaspoon or two and stirred it until it was the consistency that I wanted.
After I had the paint the right consistency, I started at the edges of the jar and started pouring. It really did look very cute like that but because I am who I am, I thought that it needed more so I added a coat of white on top of the blue paint.
My suggestion here is to wait a good 12 to 24 hours for the paint to dry before adding another layer. The white paint cracked as it ran down and mixed in with the blue which is kind of neat but not the effect that I was going for!
When the paint completely dried, I made the thrift store spindle exactly like I did in this post. Then I attached it to the bottom of the glass jar using my favorite craft glue, E6000. This stuff is the best!
If you missed the spindle candlestick tutorial, we found some table legs at a flea market and cut them down to the size that I wanted for candlesticks. This is how they turned out!
I found an old Christmas tree ornament shaped like a piece of candy and painted it the same shade of blue called Agave Waverly chalk paint. Then I glued it to the lid using the E6000 glue again. This just gave the whole project a fun little layer.
After everything was dry, it was ready for candy and cute little hands to dig in!!
This candy jar was so easy to make! I'm thinking that we may need to make another one that is more baby friendly for the littlest grandchild. She wanted that candy so bad!!
And now for more thrifty goodness!
Check out what my fellow upcyclers created below!