Sign Makeover for the monthly thrift store challenge
When I received a promotion for my day job, I also got a new office. The office was a clean slate to say the least so I knew that I had to find a way to make it my own.
For this month's thrift store challenge, I decided a sign for my office would be perfect and I scoured the flea market to find the right size. The sign that I found was just begging for a makeover and I couldn't wait to get started on it.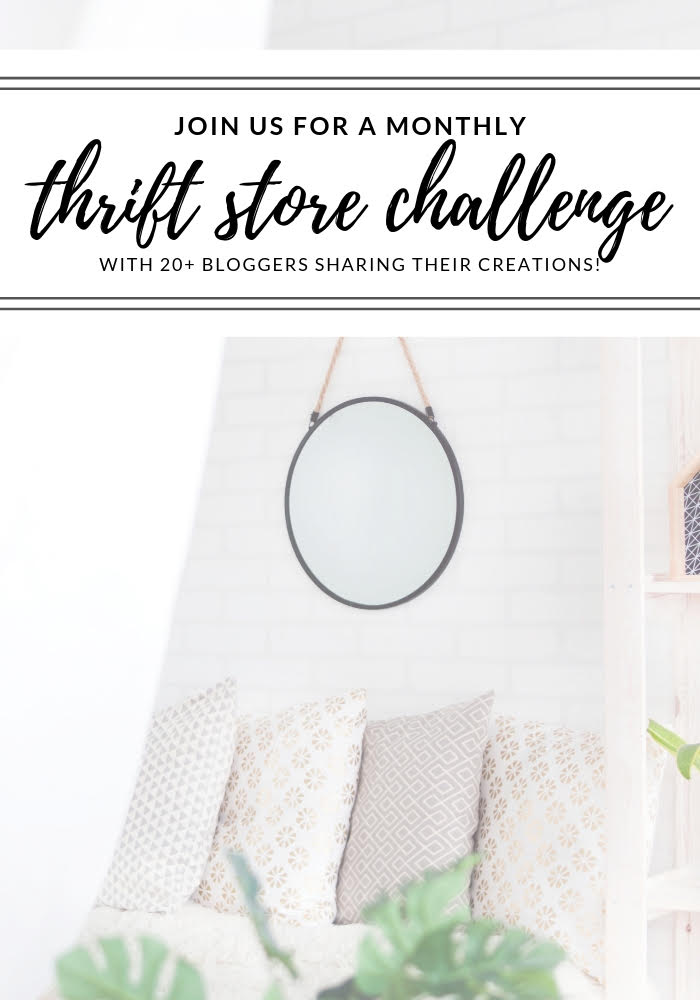 The Rules:
Upcycle an item(s) from a thrift store, resale store, or garage sale into a new piece of decor.
There's no monthly theme.
There's no budget to stick to.
Meet the Hosts
Angela | Simply Beautiful By Angela – Angie | Grandma Creates – Meredith | Southbound Blog – Amanda | Domestically Creative – Molly | Just a Little Creativity – Jenny | Cookies Coffee and Crafts – Michelle | Michelle James Designs – Marie | DIY Adulation – Pili | My Sweet Things – Gail | Purple Hues and Me – Denise| My Thrifty House – Emy | Semigloss Design – Michelle | Our Crafty Mom – Lynne | My Family Thyme – Chas | Chas' Crazy Creations – Carmen | Living Letter Home – Kathleen | Our Hopeful Home
Make sure you follow our board on Pinterest for more upcycled decor inspiration!
How to turn a thrift store sign into office decor.
Using a thrift store find sign as the base, this came together quickly and it's very budget friendly!
The following list contains affiliate links. We are a participant in the Amazon Services LLC Associates Program, an affiliate program designed to provide a means for us to earn fees by linking to Amazon.com. As an Amazon Associate, I earn from qualifying purchases. You can find our full disclosure here.
Supplies needed for this project:
The first thing that I did was to take the ribbon off of the sign. It was pretty easy to do because it was just attached with hot glue.
Then I cleaned the whole sign really well with soap and water.
It was made from plastic so I couldn't sand it too much but I wanted to make it a little rough for the paint to adhere. I used 400 grit sandpaper to just give it a rough edge. I didn't want to ruin the sign with a coarser grit.
After I roughed it up a bit, I wiped it down and spray painted it white. This took 4 coats because the sign was vibrant and you could see a lot of the colors shine through.
When the paint was completely, I cut out the design that I wanted using my Silhouette Cameo. You can also use a Cricut to do this or any kind of cutter. I used vinyl that was removable for my template. You can chose any color because the vinyl will be peeled off later.
I used transfer tape to add the design to the sign. After I transferred the design, I added another coat of white spray paint. Black will be the primary color but if you use the underlying color over the design before painting the top coat, you will get sharper edges and a lot less bleeding.
Once the white spray paint was completely dry, I used the black spray paint to completely cover everything including the edges of the sign. Two coats of the black spray paint was used to make sure there was even coverage.
After everything was dry once more, I peeled off the vinyl design and was left with the white underneath. The lines were very crisp and I was pleased with the results but it wasn't rustic enough for me so I used the same sandpaper and roughed up the edges and the front.
The sign was perfect!! I can't wait to hang up this cute sign in my office.
And now for more thrifty goodness!
Check out what my fellow upcyclers created below!