Do you ever see those old wooden hangers at flea markets but pass them by because you have no idea what to do with them?
Some people would see those hangers and think that they would never hang their clean clothes on those old dirty hangers. Today, I want to show you how to repurpose those old hangers to be useful for your home.
After you read the tutorial, check out what my friends have created this month for the thrift store challenge!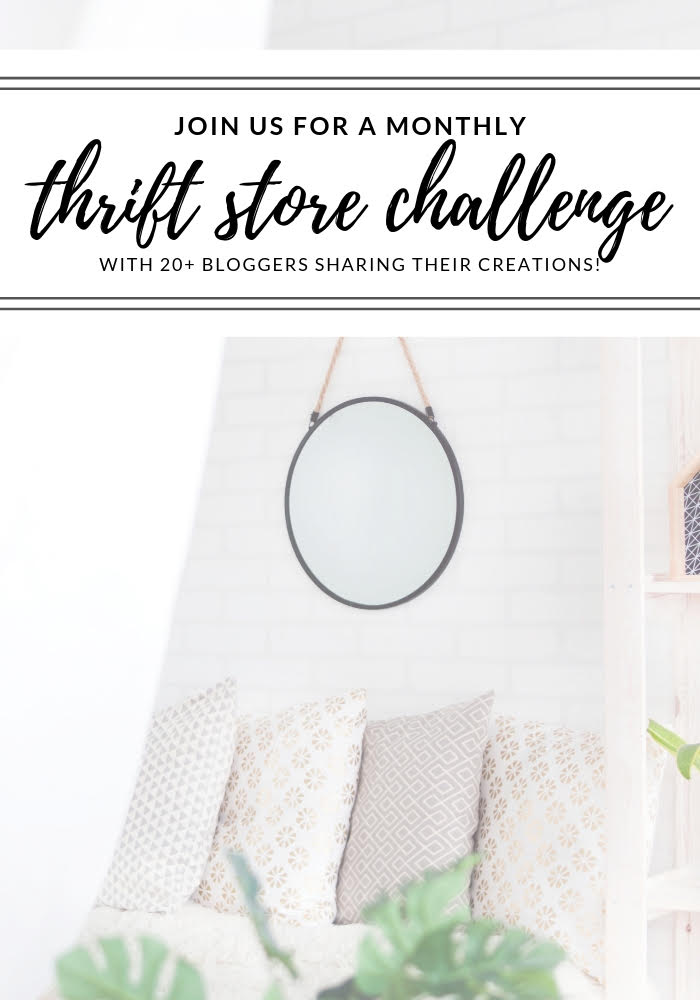 The Rules:
Upcycle an item(s) from a thrift store, resale store, or garage sale into a new piece of decor.
There's no monthly theme.
There's no budget to stick to.
Meet the Hosts
Angela | Simply Beautiful By Angela – Meredith | Southbound Blog – Angie | Grandma Creates – Denise| My Thrifty House – Jenny | Cookies Coffee and Crafts – Molly | Just a Little Creativity – Gail | Purple Hues and Me – Michelle | Michelle James Designs – Ann | Duct Tape and Denim – Carmen | Living Letter Home
Make sure you follow our board on Pinterest for more upcycled decor inspiration!
How to repurpose old wooden hangers into a jewelry and scarf organizer.
I was lucky enough to find a whole box of these old vintage wooden hangers at a flea market a year ago but never thought about what I wanted to do with them until now.
We are remodeling our closet and are always looking for ways to decorate it with unique but useful items. The first thing that went up were these vintage shoe last coat hangers and we use them all the time!!
Next, I wanted to find some way to organize my jewelry and scarves without losing a lot of the precious real estate in our closet since it is really small for two people. I don't have a lot of jewelry or scarves so I just needed something pretty small that could be stowed away for when I needed them.
My solution was to turn some of the coat hangers into an organizer that I can hang in our closet. It really turned into a fun and easy project. My wheels are are turning now for other projects that I can make with these cute hangers!
Gathering the Supplies
The following list contains affiliate links. We are a participant in the Amazon Services LLC Associates Program, an affiliate program designed to provide a means for us to earn fees by linking to Amazon.com. As an Amazon Associate, I earn from qualifying purchases. You can find our full disclosure here.
The first thing that you need to do for this project is to gather your supplies. There are really not many to gather but I'll put them in a list for your convenience.
Putting the Wooden Hangers All Together
After I gather all of my supplies, I start putting everything together to make my jewelry/scarf organizer.
On a nice day, I took my wooden hangers outside and sprayed them really well with the polyurethane. I even sprayed the wire parts to give it a shine and to keep the rusty parts from getting on my wall.
The hangers were left outside to completely dry before adding the eye hooks. If you don't have a sunny day to spray them outside, make sure you spray them in a well ventilated area. The odors can be pretty overwhelming.
Now it's time to add the hooks. I chose round eye hooks for my earrings and spray painted them black because it looks better in my closet and I only found silver hooks at my local store. You can chose to leave them silver, definitely up to you! If they had some, I would have definitely chosen black eye hooks and not painted them at all.
Measure and mark your hanger with a sharpie marker to determine how far apart and how many hooks you want to add. A drill bit was used to pre-drill the holes because you don't want the hanger splitting with the screws.
Screw each eye hook into the pre-drilled holes until you have the amount that you want to include on the hanger.
My hanger had a big hook in the middle at the bottom so the tailor or dry cleaner could add another hanger to it. If yours doesn't have that, go ahead and screw a hook into that area.
I used an old shower curtain ring that I had found to attach the 2nd hanger to the first one. If I attached it without it, the 2nd hanger would be hanging the wrong way.
My second hanger has a bar at the bottom that was used to hang pants, but I'm using it to hang scarves so they are organized in my closet. I typically don't wear scarves but I do have a couple of them just in case.
Displaying the Organizers
Since I have such a small closet space, I decided to hang them on the wall behind my clothes to keep the jewelry and scarves hidden. But you can also hang them on the clothes rod for easy access. It is really versatile.
That's it! What do you think of this jewelry/scarf organizer repurposed from old wooden hangers? Have you repurposed old or new hangers before?
And now for more thrifty goodness!
Check out what my fellow upcyclers created below!