Thrift stores are a great place to find unique items that you just can't find at big box stores. But the one thing that I have to pick up at every thrift store are frames. It doesn't matter if it has a glass, an old picture or just the frame, if it has character, I grab it every time.
If you have old picture frames left from your grandma or thrift store frames that you found while hunting for treasures, you can use those in many creative ways for your home or office.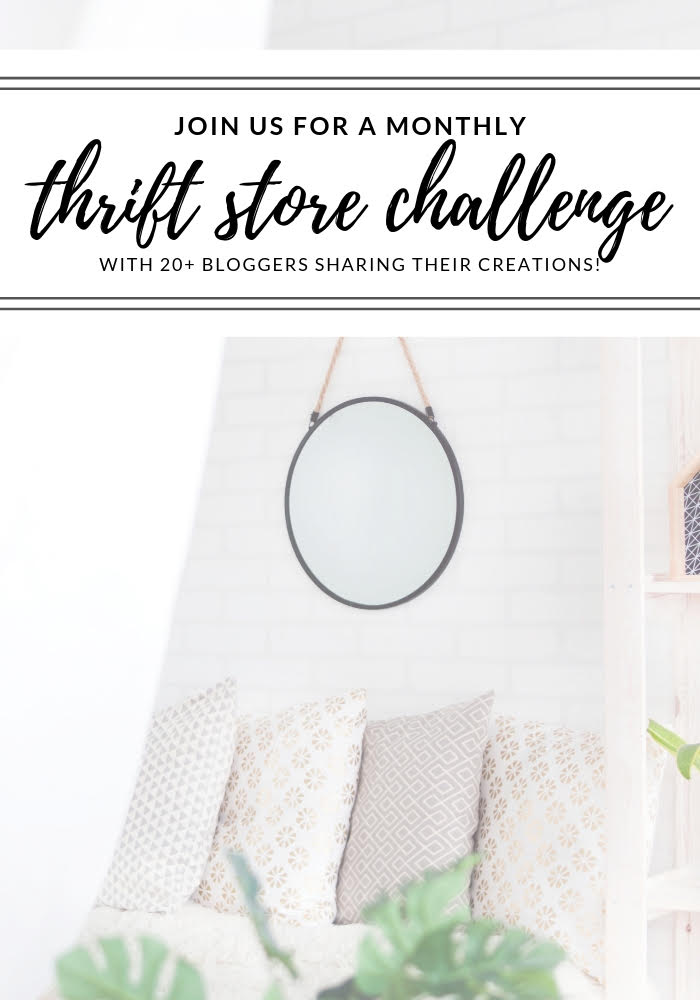 The Rules:
Upcycle an item(s) from a thrift store, resale store, or garage sale into a new piece of decor.
There's no monthly theme.
There's no budget to stick to.
Meet the Hosts
Angela | Simply Beautiful By Angela – Gail | Purple Hues and Me – Jenny | Cookies Coffee and Crafts – Pili | My Sweet Things – Beverly | Across the Blvd – Chas | Chas' Crazy Creations – Angie | Grandma Creates
Thrift Store Frames Repurposed for Office or Home Decor
When I needed to spruce up my office, I rummaged through my frame collection and made some signs to complete my office decor.
The Everything Is Figureoutable sign was the centerpiece that inspired all of the other decor around it. You can basically create crafts that will fit just about anything that you need.
The following list contains affiliate links. We are a participant in the Amazon Services LLC Associates Program, an affiliate program designed to provide a means for us to earn fees by linking to Amazon.com. As an Amazon Associate, I earn from qualifying purchases. You can find our full disclosure here.
Mirror
One of the items that I created using a thrift store frame was a mirror for my office.
The first thing I did was to take it down to only the frame without the glass or artwork. While I love the beautiful cross-stitch, it didn't really match the decor that I was going for. So I'm saving that for another project.
Wash the frame really well with soap and water and allow to completely dry before painting. Then paint with a simple can of white spray paint. I used two coats of paint but it still had the beautiful grain from the wood showing through which I loved and wanted to keep.
We painted a wooden embroidery hoop black to add to the picture frame. I purchased an 8″ beveled mirror from Hobby Lobby and used silicone to hold it in the hoop.
I wrapped twine around the hoop twice and hot glued to the hoop. This gave it better stability. I added a hook to the top of the frame to tie it all together.
For a bonus touch, I attached some faux boxwood greenery with hot glue to the frame for decoration and to hit the embroidery hoop's outer screw.
This fun welcome sign turned mirror adds a nice touch to any type of decor.
Oval Cork board
I purchased this piece of art from a thrift store a few years ago but just kept it in storage. For this project, I decided to make it into a cork board for my office.
I took the art out of the frame and discarded since it was in pretty bad shape to begin with.
We have a roll of cork that we had purchased a long time ago for future projects. I cut the cork into the shape of the back of the frame and hot glued it to press it smooth.
Cork boards are usually pretty plain so I wanted to jazz this one up by making a chevron design with painters tape and spray painting it white. It's not perfectly straight because I did it fairly quickly but it actually looks pretty good.
I gave the frame a few good coats of the white spray paint and siliconed it onto the cork board backing. The cork was really thick and it wouldn't fit when I tried to attach it all together so I used silicone to hold everything in place.
Motivational Quote Board using Thrift Store Cork Board Frames
You may or may not have noticed but these office cork boards in a frame are in a lot of thrift stores. The boards sometimes are in bad shape but can be turned into something useful for your home or office.
I turned the one that I found into a motivational quote board for my office. Anyone can walk in the office and be uplifted for the day.
At first, I was going to take the cork board completely off the frame but I decided to leave everything intact and add to it for this project.
I bought a couple yards of burlap to add to the board. It was pressed to remove all the creases and wrapped around the cork board using hot glue. The back is pretty ugly but no one will see that side anyway.
After it was all wrapped and glued down, I used some furniture nails about two inches apart for decoration and to add an extra layer of protection to keep the burlap on the board.
The furniture nails were lifted and replaced several times until they looked straight with the board. I have a bad habit of just eye balling everything and fixing the mistakes later.
A sort of "clothesline" for the quotes was made using thin pieces of twine. I ended up using printable quotes from Lemon Squeezy Home and attaching them to the twine with tiny clothespins.
One of the corners of the frame was bare so I was able to add a burlap flower to it.
Simple Thrift Store Frames with Contact Paper
The next project was so simple that I probably wouldn't consider it a craft. But it actually turned out super cute for my office and one of my favorite pieces. The office has two massive holes wall but I couldn't repair them so I covered them up with a frame. I found a couple thrift store frames that I thought would be perfect for it.
I removed the glass from one of the frames and covered the back with contact paper. Then, I spray painted the frame with a couple coats of matte white paint.
It really was very simple but added a nice decorative touch. I taped a copy of our office exit route to the middle because it hung next to the door. Simple yet very important.
I didn't get a picture but I used the same contact paper on one of my file cabinets to tie everything together in the room.
Huge Thrift Store Frames
The last thrift store frame was a huge 16 by 20 poster frame. There was a plastic type of protectant on it that I tossed in the trash but the rest was in great shape.
I used my Silhouette Cameo to cut a motivational quote to hang in the wall gallery.
And that's it for that frame! It was actually pretty simple as well but matched the decor perfectly.
I hope these easy ideas to repurpose thrift store signs has inspired you! I know that I get so many compliments every time someone enters my office. Lots of decor with an inexpensive price tag and that always makes me happy. 😁
And now for more thrifty goodness!
Check out what my fellow upcyclers created below!