April's Thrift Store Challenge: Vintage child's chalkboard easel makeover
This vintage chalkboard easel was so much fun to makeover for our grandkids. Each easel that we have seen has had unique artwork. This one was no exception.
The chalkboard easel that I picked up recently at a flea market was perfect for our grandkids little hands to play to their hearts content.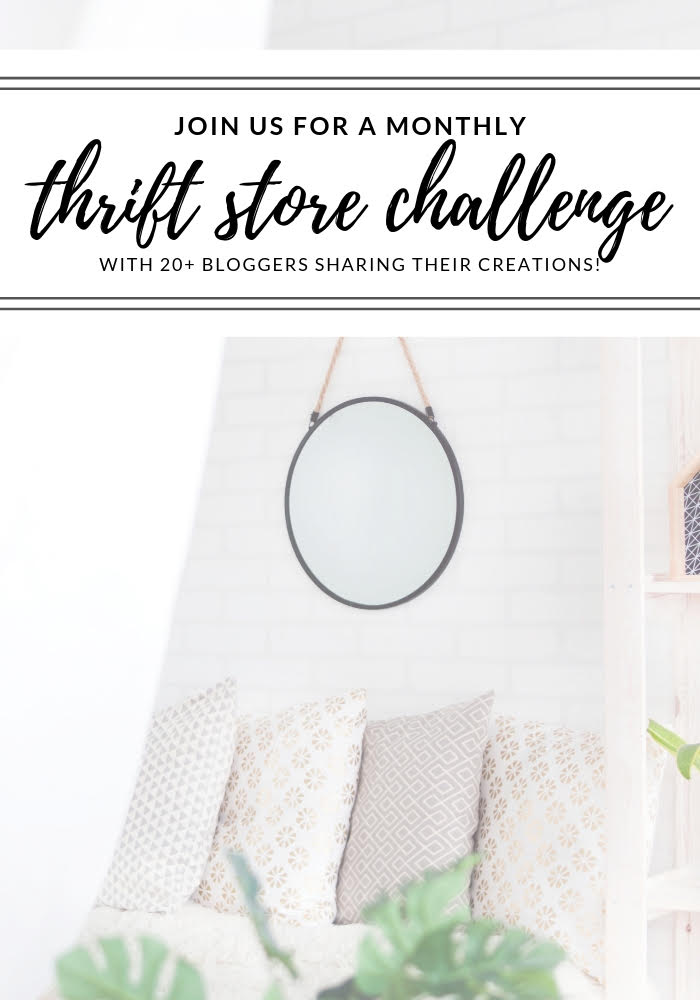 The Rules:
Upcycle an item(s) from a thrift store, resale store, or garage sale into a new piece of decor.
There's no monthly theme.
There's no budget to stick to.
Meet the Hosts
Angela | Simply Beautiful By Angela – Meredith | Southbound Blog – Jenny | Cookies Coffee and Crafts – Angie | Grandma Creates – Gail | Purple Hues and Me – Habiba | Craftify My Love – Marie | DIY Adulation – Kathleen | Our Hopeful Home – Ann | Duct Tape and Denim – Salvage Sister & Mister – Chas | Chas' Crazy Creations
Make sure you follow our board on Pinterest for more upcycled decor inspiration!
Welcome to April's thrift store challenge!!
As you might have guessed, for this month's challenge, I'm giving an old child's chalkboard easel a much needed makeover.
History of the chalkboard
Before I tell you about the chalkboard makeover, I wanted to give you a little history of the chalkboard just in case you didn't know.
In the ancient times, children used clay tables with a stylus. I'm thinking that the stylus probably was more like a stick or rod of some sort. The kids would write their lessons and then wet the tablet to erase it. If they wanted to keep the lesson, they would bake the tablet.
At the end of the 18th century, students in Europe and America were using small individual pieces of slate or pieces of wood coated with paint and grit and framed with wood. They were horrible for lessons though because the teachers would have to go to each individual student to present something instead of showing it to the whole class.
So a man by the name of James Pillans decided that he was going to fix that problem and, in 1801, he invented the first modern blackboard. Instead of using small individual slates, he got a really big piece of slate and hung it on the wall.
Other schools heard about this and decided to try it too. So the invention of the blackboard was born.
With the 20th century, they changed the slate blackboards up a bit. They decided a green board was more pleasing to the eye and you couldn't see the remnants of the chalk powder as easily when erased. Because the blackboard was no longer black, people started calling it the chalkboard. Makes sense, huh?
Now that the fun history lesson is over, we can get back to the tutorial. 🙂
The following list contains affiliate links. We are a participant in the Amazon Services LLC Associates Program, an affiliate program designed to provide a means for us to earn fees by linking to Amazon.com.
As an Amazon Associate, I earn from qualifying purchases.You can find our full disclosure here.
Child's Chalkboard Easel Makeover
I have to confess something now. This makeover is super easy and took a total of 10 minutes. The only reason it took 10 minutes is because it took that long to tape the areas that I didn't want painted.
Basically, we found this cute little chalkboard easel at a thrift store. We couldn't pass it up and the grandkids absolutely love it. It was already in great shape so there was not much work that needed to be done to it.
My apologies in advance for all of the awful nighttime photos!!
To start the makeover, we cleaned it really well with soap and water. It wasn't filthy, just a little dusty from sitting around.
There were a couple of staples getting ready to fall out so I hammered those back into place.
Then, I used painter's tape to taped all of the areas that I didn't want to paint. I even taped the hardware on the side because I like the industrial look mixed with vintage and I didn't want to paint them red.
The artwork on the top of the easel was adorable with the drawings that look like a child drew them so I wanted to keep them. The artwork and the letters and numbers were red so that's what I decided to paint the chalkboard easel.
Painting the chalkboard easel
In hindsight, I might have sanded the wood before painting but it looked to be in pretty good shape so I skipped that step.
I used Rust-Oleum 2X ultra cover paint + primer to paint the easel because I wanted this project to be super easy and fast. The paint didn't disappoint. It took the whole can but it looked really good afterwards and it matched the artwork perfectly.
There was chalkboard on both sides and it looked really good so I thought that I would keep it. But after the easel was all painted red, I noticed a few stains on the chalkboard. The stains would not come off no matter what I used, so I decided to use chalkboard paint (not chalk paint, totally different) to freshen it up a bit.
Because I didn't want to ruin what I had already done, I taped everything again using painter's tape. I also taped some paper to the easel to make sure that no chalkboard paint went on any area that I didn't want it to.
There was another chalkboard on the back so I painted that side too after the other side was completely dry.
Priming the chalkboards
Make sure you let the chalkboard paint dry for at least 24 hours before you draw on it.
Once the chalkboard paint was completely dry on both sides, I used the same technique from this tutorial to prime the paint to get it ready. This is a very important step. If you skip this step, every time you draw on the chalkboard with chalk, "ghost" chalk remains and it cannot be removed. The only way to remove the drawing or whatever you wrote is to paint over it again. I may or may not have learned this the hard way 🤦🏻‍♀️
For another fun child's chalkboard makeover project, check out the tutorial at Simply Beautiful by Angela. There are so many ways to upcycle these little easels!
That's it! There was not much to this tutorial but it turned out so cute and our grandkids love it so much!!
And now for more thrifty goodness!
Check out what my fellow upcyclers created below!